The Casino Challenge
In casinos, there are many vendors, each with their own network. To remain in compliance with the NIGC MICS, the casino is required to log remote access. This is almost impossible using traditional tools. GhostSentry is very different from other tools, and makes logging remote access to your casino possible for the first time.
Before GhostSentry
The picture below illustrates how many casinos work. Each vendor has their own circuit, not directly controlled by the casino. Some casinos have no choice but to manually plug and unplug vendors to gain compliance with the MICS. Of course, that strategy doesn't work well with vendors that have wide area progressives, or remote health monitoring.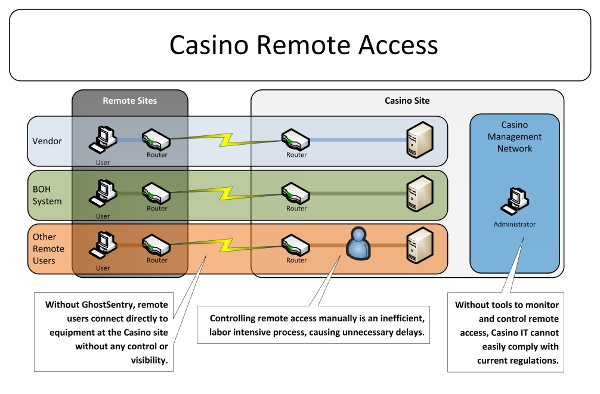 After GhostSentry
GhostSentry is specially designed to address this challenge. No setup is required on the vendor network – just plug it in. Now, through a single web-based screen, you can control which users have access to vendor equipment. You can set up pre-approved access, and easily deal with unscheduled or emergency requests, even from your smartphone or tablet. GhostSentry can also log WAP and health monitoring.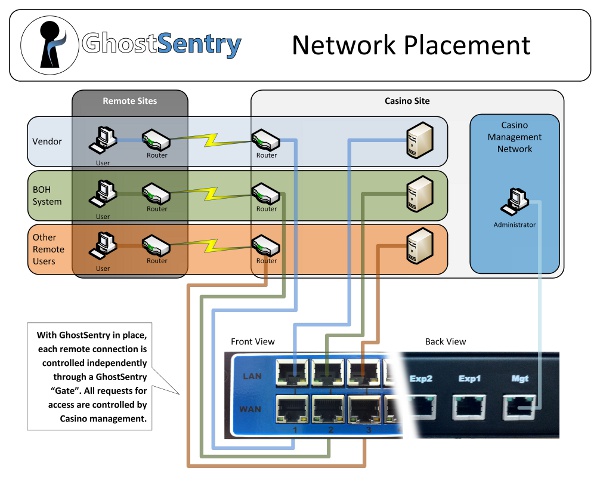 Simple for Vendors
Your vendors only have to supply a list of users. No network information is needed, and no changes are needed in their network settings. To use the system for approved access, or to request access, the remote user simply uses a web browser. The end result is remote access monitoring that is easy to deploy, administer, and use, with NIGC compliant activity reports to satisfy audit requirements.